News Notes: October 5, 2018
The Week Ahead:
Monday, Oct. 8:
 
Tuesday, Oct. 9:
Marathon Day of Service Collection Day
LC Prayer Service, 9:30 am
UC Birthday Lunch w/Mrs. Kerr
School Board mtg, 7:00 pm, Social Hall
Wednesday, Oct. 10:
Mass of the Holy Spirit, US Bank Stadium, grades 4-8
Thursday, Oct. 11:
K-100 Field Trip to the fire station, 9:30 am
K-201 Field Trip to the fire station, 1:30 pm
Friday, Oct. 12:
Moms & Donuts, 8:30 am, LC Lunchroom
Gr. 7 Field Trip to Youth Performance Theater, 9:15 am
Saturday, Oct. 13
Christ the King Oktoberfest, 5:30 pm
The following information went home on Wednesday:
Kinder & 8th Grade Hygiene flyer for Day of Service  (yellow)
Moms & Donuts flyer  (cherry)
From the Desk of Principal Sue Kerr: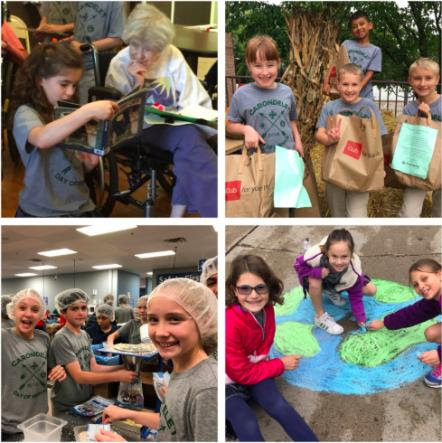 This week we were gearing up for our 
Marathon Day of Service!
We planned great service learning projects this year, and many of them were opportunities for our children to take ownership of our relationship with Waite House. Our kindergarten and 8th grade buddies made hygiene packs for new recipients this year. You may have seen the growing homeless encampment in the Hiawatha neighborhood in the news the last few months. Our friends at Waite House will deliver the hygiene packs to families who are living in this tent city. They include items such as diapers and wipes, toothbrushes and toothpaste, socks and hats, and first aid items. Our fifth graders made sandwiches with ingredients donated by Agra Culture, and our 4th graders made rosaries and prayer cards to go along with the hygiene items. It is awesome that our kids will be providing both physical and spiritual comfort to these Minneapolis neighbors.  
Also new this year, several students delivered grocery bags and flyers to our Upper and Lower Campus neighbors asking for non-perishable food donations for Waite house. The second graders were happily surprised today by the large number of grocery bags that were left out for them to collect. Our 6th graders helped in the community gardens at Waite House to "put them to bed" for the winter months.  
We have supported 
Waite House
 since 2002, and they have come to rely on the Carondelet Community as the single largest contributor to their food shelf. While this is very important work, sometimes it feels as if the donations are too far removed from our kids (we know they are not usually the ones buying the groceries to donate). This year we are trying to find more ways to make the Waite House connection real to our Saints and the Day of Service is a great start!  
At the Lower Campus on Wednesday, the students gathered for their first Saints' Way 
character trait assembly
which focused on communicating "you matter" by being a good friend. The kids also decorated a friendship poster with buttercups and ideas for how to be a good friend. At the Upper Campus, our 7th graders led us in a prayer service that explored the meaning of the Lord's Prayer. We pray it all the time, and it is good to stop and remember what we are praying for (especially that we are asking God to forgive us in the same way we forgive others).  
On Monday a quintet of middle schoolers who are taking the 
Ukulele enrichment class
 serenaded me with, 
You are my sunshine
. What a treat, and what fast learners; they had the lyrics and the strumming down pat just a few lessons into the year!  
Next week when our 4th through 8th graders participate in our archdiocesan wide 
Mass of the Holy Spirit at US Bank Stadium
, the Knights of Columbus will be there collecting winter clothing for 
Coats for Kids
. If you are cleaning out closets to gear up for the coming cold and snow, please consider donating any gently used items that no longer fit your children. They are looking for coats, snow pants, hats, and mittens. The kids may bring them to school next week and we will deliver them at US Bank Stadium on Wednesday.  
God bless your families, see you tonight at
Family Fun Night
 – I can't wait to see the new format and try the food trucks! Many thanks to our Board of Directors who are chairing the Marathon as a group this year. We need to meet our goal so please remember your kids may collect pledges until the end of October. Go Saints, and go Gophers (Homecoming is this weekend – our well rested Golden Gophers take on the Iowa Hawkeyes)!  
~
Principal Sue Kerr
Sweatshirts in School:
We've been more lenient the last few weeks on uniform apparel as the weather has quickly changed, but starting next week we will be enforcing our school uniform dress code. Solid navy sweaters, fleece pullovers, and crewneck sweatshirts must have the school logo (or no logo). Grey spirit wear sweatshirts are not part of our uniform and cannot be worn during the school day. 
Educational Outfitters
 is offering 15% off uniform apparel through October 15.  
Thank you to everyone who volunteered and brought in pledges this week for our Marathon Day of Service! 
As of today, students have brought in just over $69,000 of our $80,000 goal and served the less fortunate of our community far and wide! 
To celebrate our Day of Service, Carondelet families and friends are invited to join us at the Lower Campus from 5:30-8 pm for a Family Fun Night. We'll have food trucks, games, a DJ, face painters and more!  
For the schedule of activities and service projects, 
visit the Marathon Day of Service homepage.
Pledges, Prizes and T-Shirts!
Pledge envelopes will be collected, tallied and returned to students on Tuesdays through October. Students who collect:
* Pledges of $100+ earn the NEW Day of Service T-shirt (worn on Fridays through Oct.)
* Pledges of $300+ earn a Pancake Breakfast with Mrs. Kerr & Mr. Blanda
* Pledges of $500+ earn a limited edition spirit wear item and entry into the "select"       prize drawing for 6 Waterpark passes, a droid, sky drone or a GoPro Hero!
* Top Pledge Earner: Limited edition Carondelet Spirit Wear and a class pizza party!  
Mass of the Holy Spirit:
 Carondelet students in Grades 4-8 will participate in the Mass of the Holy Spirit on Wednesday, October 10, 2018, at U.S. Bank Stadium in Minneapolis. The Mass of the Holy Spirit will be a beautiful sight to behold and to celebrate as 14,000 students in grades 4–8 from the 79 Catholic elementary schools in the Archdiocese of St. Paul and Minneapolis, along with school staff/teachers and chaperones gather and pray with Archbishop Hebda and Bishop Cozzens and many priests from the Archdiocese.  The Catholic Schools Center of Excellence (CSCOE) organizes the Mass in partnership with the Archdiocese of St. Paul and Minneapolis. The students will enjoy special musical guests, lunch and a chance to celebrate Mass like they've never experienced it before! This extraordinary event promises to be a day filled with FAITH, HOPE, LOVE AND EXCITEMENT! A link to the Mass of the Holy Spirit 
website is attached here
. Permission slips (fluorescent green) for this special event went home last Friday and are also available online on our Sycamore school page. Cost for this event is $10 and will be billed to your account. Please contact 
Mr. Blanda
 if you have any questions.  
Parent/Teacher Conferences:
Teachers in K-5 will be scheduling their own conferences while the Middle School will have arena-style conferences in the Social Hall on Tuesday, October 16, from 4:30-8:30 pm. Wednesday, October 17 is also a designated Parent/Teacher Conference day, from 8:00 am to noon. Middle School parents should have received an email to sign up for 5 minute slots conferencing with the teachers of their choice.  
Destination Imagination Managers Needed:
 Destination Imagination is an innovative creative problem-solving program for all learners.  Teams of five to seven students are asked to solve unique challenges with no adult assistance.  The challenge offers students an opportunity to explore engineering, architecture, drama, and improvisation.  The program fosters creative problem solving, teaches teamwork, rewards divergent thinking, employs time management, promotes risk taking, and encourages experimentation. Our Carondelet teams have won at the regional tournaments in their categories and have placed in the top three. The number of Destination Imagination teams will be determined by the number of volunteer team managers. If you would like more information about being a team manager, 
email Mary Wozniak
 by October 8. 
Learn more about DI here
.  
Current Students and Alums in theater productions:
  Our 4th grader, Peter Neiberger is currently in the production of
 Charlotte's Web
 at Stages Theater in Hopkins running now through October 21.  
Carondelet graduates Naiya Patel, Angie Peterson and Griffin Riley are in the current production of 
High School Musical
 at Southwest High School.  Shows are next week, Thursday through Sunday.  Tickets are available at the door 
or online
.  
Carol and the BELLES
: A Christmas Musical!
 Kids in grades K – 12 are encouraged to participate in this production offered by the Carondelet Theater Academy and directed by Heather Dorsey.  The Theater Academy offers intensive theater training for young actors and musicians. Performances are on Saturday, December 14 at 2:00 pm and 7:00 pm and Sunday, December 15 at 4:00 pm.
Play Scenario:
 It's 1954, and at Big Bill's Diner, where the waitstaff sings your order and the Christmas decorations stay up all year long, excitement has never been higher. They've just won the network's Christmas at the Drive-In contest and will host the live telecast of the Rock & Roll Christmas TV Special! It all comes to pass with '50s fun, Christmas charm, cool tunes, and joy to the world in
 Carol and the Belles
. Clever songs and fun dialogue make up this enjoyable musical.
Rehearsals begin Saturday, November 10 
and are held Friday after school, Saturday and Sunday afternoons. The complete schedule is online on the CCS school website.
Letter to Parents
Play Synopsis
Participation Form
Moms & Donuts:
CCS mothers and/or special friends are invited to join their CCS students for some yummy donuts before school next Friday, October 12 in the Lower Campus cafeteria from 8:30-9:00 am.  
Volunteer Link:
Volunteering is a great way to get involved and meet other families at Carondelet! Please click on the 
volunteer link of the Home & School webpage
 to learn more and/or sign-up to volunteer. Thank you!  
Questions?
For more information on Home & School, please contact 
Stephanie Coogan
 or 
Marjorie Kennedy
, Home & School Co-Chairs.  

Christ the King Oktoberfest: 
Please join us on Saturday, October 13 for a fabulous fall parish Oktoberfest. We'll have brats, pretzels, beer and fellowship. You can purchase your tickets in the Gathering Space after Masses and if you would like to help, please contact 
Caroline Langfeldt
.